We've got two words for you: Kool. Aid.
Well, technically it's one word, Kool-Aid, as in the sugary sweet powder you mix with water to make a kid-friendly beverage in the summertime. Confused yet? Read on…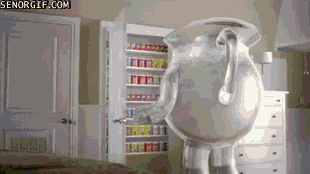 As it turns out, manmade cleaners aren't the only products that can get your bowl glistening. As long as you have some lemon or orange Kool-Aid on hand, you can blast away rust stains faster than the
Kool-Aid Man
can burst through your bathroom door yelling his famous, "Oh Yeah!"
How to Clean Your Toilet With Kool-Aid
Sprinkle the contents of one lemon or orange Kool-Aid package in your toilet bowl before bed.
Swirl it around with the toilet brush to mix it and let it sit overnight.
Wake up, flush and enjoy a sparkling bowl! Ta-da!
How does Kool-Aid clean my toilet?
It's simple really! As Apartment Therapy explains, "it's the citric acid that helps to clean your bowl!" While you sleep, the acid in the drink will be hard at work, cutting through tough rust stains and buildup. The best part? It's totally safe for Fido, too! No more worrying about him drinking from the bowl when chemicals are at work. See — it's a win-win all around.
For more conventional ways to remove rust rings and mineral buildup in your toilet, tub, and fixtures, check out this article from The Family Handyman. And if you find your bathroom fixtures beyond repair or ready for replacement, call Barker and Sons Plumbing.

Are you finding rust rings around your bathroom more and more? It's not your imagination. It's your water quality. Call Barker and Sons Plumbing & Rooter today and allow our professionals to provide a full water quality report and a range of options to help you better your water and stop water staining in its tracks.