The shift and demand for a four-year degree over the years has left trade jobs scarce. The amount of skilled workers has diminished, and trade company has taken the hit. At Barker and Sons, we believe education is vital to growth, and our love for what we do shines through!
As a 4th generation plumber with nearly 40 years of experience, our fearless leader, Mike, has managed to beat the trade shortage through investing in training and developing those interested in plumbing. We have successfully grown our company by 50 percent throughout this past year all by using our love and knowledge for good!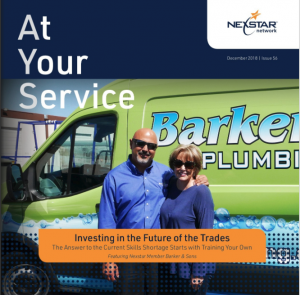 The Need For a Trade School
When it comes to school and training, the more local, the better. In 2011, we brought up to the PHHC Boards of Directors that, unlike Los Angeles, Orange County did not have a trade school. This wasn't an easy task, but to ensure there was a future in plumbing in the area, it was vital. Though it was hard work and a lot of push, the school is now operating at capacity. What once was a handful has now become hundreds of students. Not only are we avid about keeping this school going, but we've also invested in thirteen students this year alone to participate in the program.
Quality Takes Effort
The key to quality work and workers is a passion and interest in the subject at hand. By identifying interest at a young age, letting students know what opportunities are available to them, and providing them with the proper trade education, we grew our staff  — and you can too. Plumbing is a secure job with fantastic compensation, but the knowledge of that is lacking. With the right PR behind it, success is possible, allowing for quality, passionate workers.  
Becoming an Employer of Choice
Though we push and encourage trade training, knowledge is power, and we encourage our techs to never stop learning. Because of this belief, many of our employees also have four-year degrees. By pushing them to better themselves as people, we've now put ourselves in a position to become the employer of choice. People want to work for a company that pushes them and supports their desires, and that's precisely what we strive to do.
If you're looking for a quality trade education in Orange County, speak to our team about enrolling in trade school and the future possibility of becoming a part of the Barker family. We're always looking to grow our team, and as you can see, we put our money where our mouths are and strive to help our employees be the best versions of themselves.