When asked "what makes our business stand out from the rest?" the answer is easy: our commitment to customer service. When you choose us, you choose to work with family, and we make it a point to always treat you as such. So much so, that we can proudly say that once again, we've won the Angie's List Super Service Award (SSA). An award we hold near and dear to our hearts.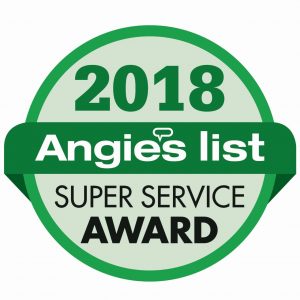 What makes the SSA award so prestigious?
"Service pros that receive our Angie's List Super Service Award represent the best in our network, who are consistently making great customer service their mission," said Angie's List Founder Angie Hicks. "These pros have provided exceptional service to our members and deserve recognition for the exemplary customer service they exhibited in the past year."
Angie's List Super Service Award 2018 winners have met strict eligibility requirements, which include maintaining an "A" rating in overall grade, recent grade, and review period grade. The SSA winners must be in good standing with Angie's List and undergo additional screening.
"We couldn't be more excited about being named a Super Service Award Winner," said Brenda and Mike Barker, owners of Barker and Sons Plumbing & Rooter "We owe it all to our outstanding staff, who work hard to deliver the best possible customer experience, with a smile on their face day-in and day-out. And of course, to our loyal customers, who have offered their kind words by way of reviews to help put us at the forefront of our industry in the Angie's List marketplace."
Being honored solely off our customer experience is one of the best honors any business can get. Your happiness is what drives Brenda, Mike and the team, and without it, we wouldn't see success.
In today's busy world, the fact that you as a consumer can take the time to share your wonderful experience through a review means more to us than you will ever know. Brenda, Mike and the rest of the Barker and Sons Team are looking forward to many more successful years of finding leaks, fixing plumbing, replacing sewers, installing water heaters and serving homeowners all over Orange County, California.
Barker and Sons Plumbing & Rooter is a family owned and operated plumbing company serving customers in Orange County, California. They are Orange County's certified green plumbing company and offer everything from pipe leak detection and repair to sewer replacements.