The Future of Plumbing is Bright With Barker and Sons 
We want to congratulate our very own Bryce Epperson who, was part of our Ride and Decide Program, for receiving a four-year scholarship from Fluidmaster! 
Though many schools advise their students that the next step after high school is college —  out of those who enroll, only half will graduate. However, with many skilled plumbers at retirement age, and a lack of widely available school programs, we made it our mission to spread the word on the future of plumbing. Bryce is one of those successes and we couldn't be more proud!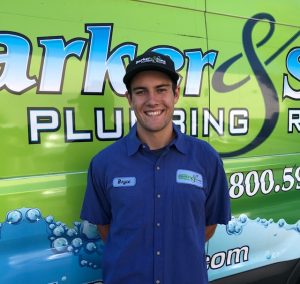 Ride and Decide Program With PHCC
With every four construction industry professionals that leave the field, only one enters. As a result, the Ride and Decide Program was implemented by PHCC (Plumbing-Heating-Cooling Contractors) to give those who may be interested in the world of plumbing a first-hand look at what the job entails. High school juniors and seniors are paired with trade industry contractors during their summer break, so they can try the trade — with pay — to see if it's the right career path for them. 
Not only are we making our mission to spread the word in local high schools, but we are also sharing the message anywhere kids are, President Micheal Barker has recently presented the program to the Big Brothers and Big Sisters. Mike believes that "This is a great hands-on opportunity for theses kids. They need to know that trades are a great option when looking at their future, at their possible career." CAPHCC anticipates that with proper promotion and management, the program will spread throughout the county. 
Scholarship Program Through Fluid Master
In addition to offering hands-on experience, we also want to provide future plumbers with the educational tools they need to be the top in their field. Fluid Master, along with PHCC, will match scholarship recipients with a plumbing job and formal training so they can become a certified plumber. Applicants must be high school seniors, or graduates, that completed the PHCC Ride and Decided Program and have plans to enroll in full-time study in the PHCC-ORSB four year Journeyman Plumbing Training Program at PHCC. With six awards granted annually, the scholarship is valued at approximately $14,000 over the course of four years. 
"We're thrilled to partner with Fluidmaster to help guide these youth and introduce them to a plumbing career," says Michael "The scholarships recipients that were selected to work with our team are smart, driven, and on the path to becoming great plumbers." 
In the last few years, we have seen much success with several of our former students now speaking to local high school students about their experience. 
If you are already certified plumber looking for a place that will nurture your education and growth, join the team at Barker and Sons Plumbing!  You'll have the unlimited earning potential not to mention; with us, you're family! Apply today!