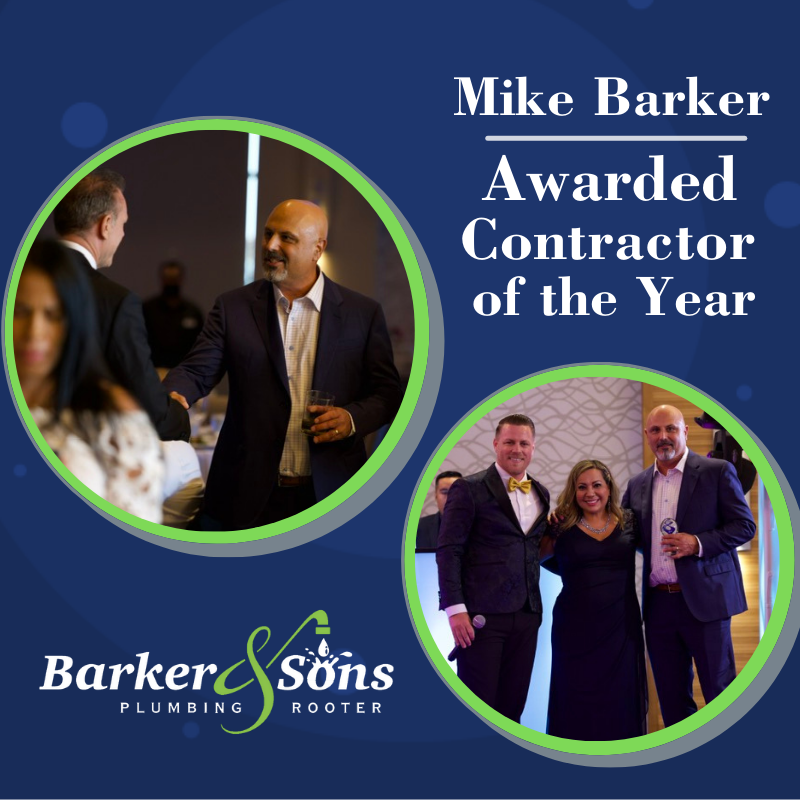 Mike Barker Wins Contractor of the Year!
We are proud to share that our owner and founder, Mike Barker, was named Contractor of The Year at the PHCC ORSB Annual Graduation and Gala! With over 320 people in attendance, this was one of the biggest events for PHCC in California history, and Barker was beyond honored to be able to share this award, for the second time, with each and every one of them.
Barker is a leader with a servant's heart. A Contractor Member of the Plumbing-Heating-Cooling Contractors Association since 1994, Barker has been a passionate advocate on behalf of the plumbing industry and believes whole-heartedly in giving back to the industry that has supported him.
Dedicated to His Trade
Mike Barker has proudly served on the Board of Directors of the PHCC Orange, Riverside & San Bernardino chapter, moving through the chairs and serving as PHCC President for 2011-2012 & 2016-2017. Barker also served as President of the PHCC of California Board of Directors and sat on the Government Affairs Committee for the PHCC National Association. He currently sits on the "Explore the Trades Board" and is committed to developing and inspiring the next generation of skilled workforce.
With his firm belief in training and certifications for plumbers, Barker was an instrumental part in founding the PHCC ORSB Apprenticeship Training Program (with over 100 students and growing). In fact, he has ten employees attending PHCC training, not just for the confidence of sending out a trained employee on behalf of his company but also to deliver an outstanding customer experience.
Education and Spreading the Word
Through educating and training his staff, he can confidently say that he's been able to offer his customers the very best in the industry as he grows his company. Barker says, "PHCC Contractors are held responsible for the work they do, regardless of intention. I can't be on every job, but I have confidence in my employees doing the job right, with the training and education we provide to each and every employee."
Barker and Sons has proudly worked with such companies as Fluidmaster, Brasscraft, PHCC, Ferguson, and many others, to provide future trade workers with scholarships. Mike is an active voice in the community, speaking at local schools for years to share the opportunity and pride a job in the trades can offer young students.
Barker believes that true success within his association membership has been a byproduct of taking advantage of the tools offered through PHCC. Beyond his involvement in PHCC, Barker is also active in his community and a member of Anaheim Chamber, Yorba Linda Chamber, North Orange County Chamber of Commerce, Irvine Chamber of Commerce, and Nexstar Network.
In addition, Barker and Sons proudly offer their unique Ride and Decide Program, where students can come and spend a week riding with technicians to see if it might be a good fit for them. If all works out, they can go to school and earn while they learn! 
Working to Stop The Trades Shortage
With the recent labor shortage, it's important that contractors everywhere take the proper steps to inform the younger generation of the need for trade work and how it can be a beneficial career, and with education and mentorship. We can help do our part in preventing a shortage.
Build Your Plumbing Career With Us
If you are already a certified plumber looking for a place that will nurture your education and growth, join the team at Barker and Sons Plumbing! You'll have unlimited earning potential not to mention; with us, you're family! Apply today!