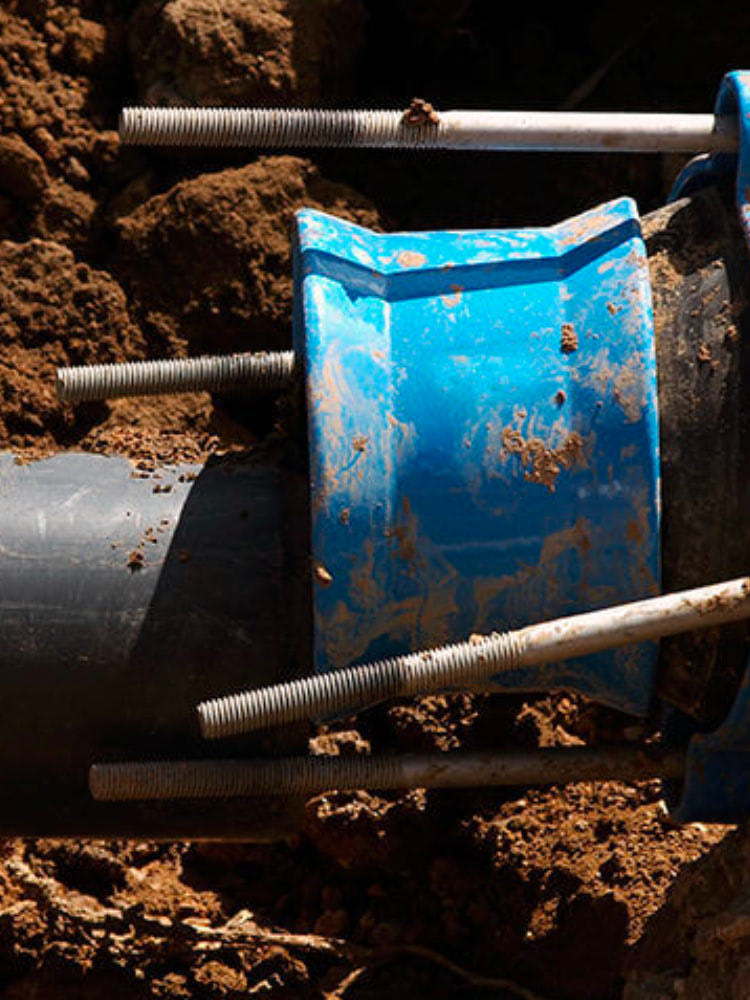 Sewer Line Repair Experts
Our state-of-the-art, underground trenchless sewer repair services, remedy the problem quickly for you.
Sewer Repair in Orange County Has Never Been Easier
Looking for a fast, convenient way to repair your sewer line in Orange County without digging trenches? Barker and Sons Plumbing & Rooter can assist you with a wide range of sewer repair solutions including underground trenchless repair.

With expert diagnosis and sewer repair teams, we can help with every type of sewer line issue, and we even provide emergency sewer line repairs. We own all of our sewer repair equipment, so you can rest assured that you're getting a uniformed team of professionals from Barker & Sons for every sewer job – never a subcontractor.
How We Repair Sewer Lines
Before repairing your sewer line, the most important step is an expert diagnosis of the issue. Barker & Sons Plumbing takes advantage of state-of-the-art in-pipe video inspection and leak detection technologies to pinpoint the exact source of any sewer issue. This analysis helps guide our decision on what kind of sewer repair you need. We offer all of the following sewer repair services:
Instead of digging up your yard for traditional sewer line repair, trenchless repair allows us to bore an opening through access points and repair up to a hundred feet of pipe with minimal damage. Trenchless repair is handled with the pipe-lining method or the pipe-bursting method.
You can learn about the difference between pipe lining and pipe bursting from this blog post, and check out this blog post to learn more about the trenchless sewer repair process.
If we determine that parts or all of your sewer line are damaged beyond repair, we can replace it. We also offer trenched and open-trench sewer pipe replacement that can replace your collapsed, broken, punctured, cracked, or root-filled sewer lines without us having to dig up your yard.
If you're dealing with extra tough clogs, regular sewer repair and replacement techniques might not do the trick. Hydro jetting can cut through clogs and roots that block wastewater from moving down your pipes, washing away all gunk and debris from your pipes so that they are as clean as they were when new.
Our team might recommend hydro jetting as a standalone solution or in coordination with other sewer repair or replacement services. Check out how hydro jetting works here; you can even watch a video animation showing how it's done!
With the power of video camera technology, you and your sewer repair team can see inside the sewer line for yourself. Video inspection of your sewer line will allow our plumbers to determine the most appropriate repair solution. Check out a full list of the benefits of video camera pipe inspections.
Why You May Need Sewer Line Repair Services

No one wants to have to deal with sewer line repair, but what typically causes these problems? At Barker and Sons we've seen it all. The most common causes include:
Broken or cracked pipes
Tree roots intruding on pipes' space
Blockages caused by grease or other undesirable materials
Corroding or deteriorating pipes
Pipes that have bellied or sunk into the ground due to soil conditions
Pipes that have leaking joints
What are the Warning Signs?
While it's helpful to know why sewer lines can become damaged, it's even more important for homeowners to know the symptoms of a damaged sewer line. If you have noticed any of the following warning signs, you should call a professional plumber to diagnose the issue:
Strange sounds and smells, such as toilets gurgling and sewage smells coming from your drains or sinks.
Slow draining sinks and bathtubs.
Bugs and other pests living in your drains could be indicative of a sewer line block.
Mold and mildew can result from any number of household problems. One of the causes is a sewer line blockage, as water backs up and provides a great environment for mold to grow.
Unexplained wet spots in your yard or floors may be due to sewer line problems. These wet spots in the yard can even lead to extra green grass patches.
We're THE Trenchless Sewer Repair Experts
Trenchless sewer repair is a way of repairing your damaged sewer or drain lines underground – this can save digging trenches across your yard and driveway, and it can minimize the disruption for your home and your family. That's why we recommend it to so many of our customers. Not every home and sewer line is compatible with trenchless repair. Barker & Sons also offers traditional trenched sewer repair in the event that a trenchless solution does not work for your home.
Barker and Sons Plumbing & Rooter is family owned and operated, and we've been serving the Orange County area for over 35 years. We offer upfront pricing and our expert plumbers are skilled at using trenchless sewer repair technology to offer quick and undisruptive sewer repair services.