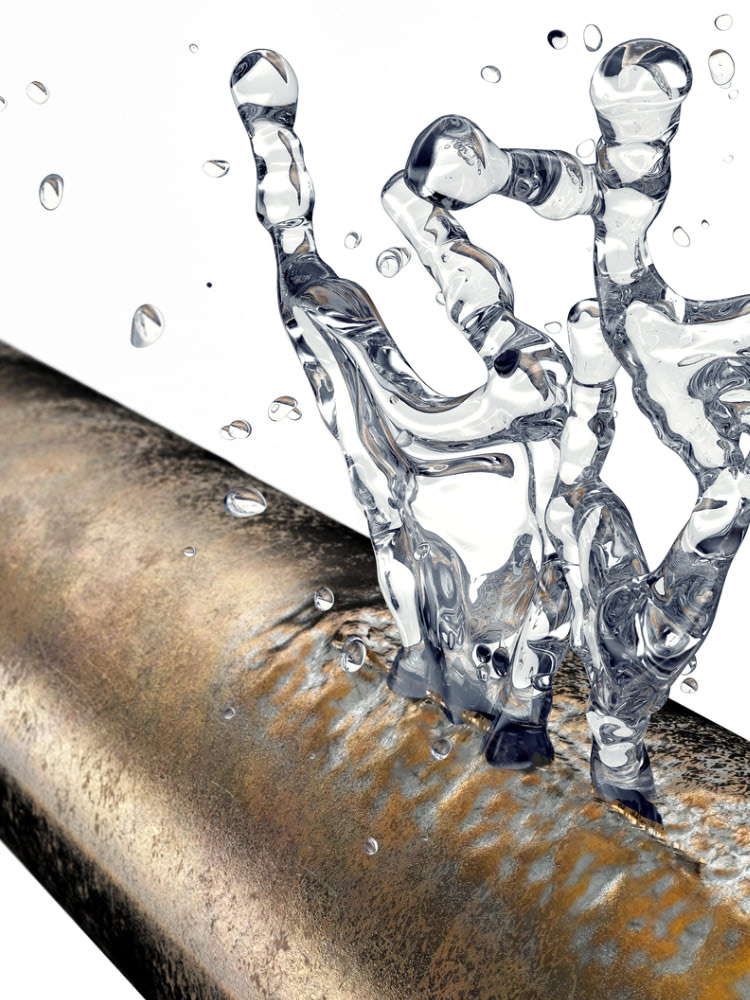 Slab Leak Repair & Detection Experts
Call 24-7 for fast, same-day emergency service
See Specials
Slab Leak Repair & Detection Service in Orange County
Not all plumbing leaks can be seen with the naked eye. Sneaky leaks can pop up anywhere, including your concrete slab foundation – one of the most serious problems you can encounter as a homeowner. If you own a home, it is very important to know both what causes slab leaks and how to identify one.
What Causes a Slab Leak?
There are many possible factors that could account for a slab leak; more often than not, it is the result of damage that occurs during and or after the pipe installation. It is common for some materials to get a little banged up while building a house, but if the pipes experience any damage, it could cause plumbing problems in the long run. Other factors that play a role in causing slab leaks in Orange County are ground/foundation shifts, abrasion, and or the corrosion of your pipes.
When a leak occurs under a bathtub or shower, or under expensive flooring, the cost of the repair may be too much for a homeowner. In a case like this, we recommend capping off the existing underground pipes and rerouting the water pipes through the walls or attic using durable and flexible PEX piping. If more than one water line is damaged, a complete pipe replacement may be required.
How do you know if it's a slab leak without seeing it?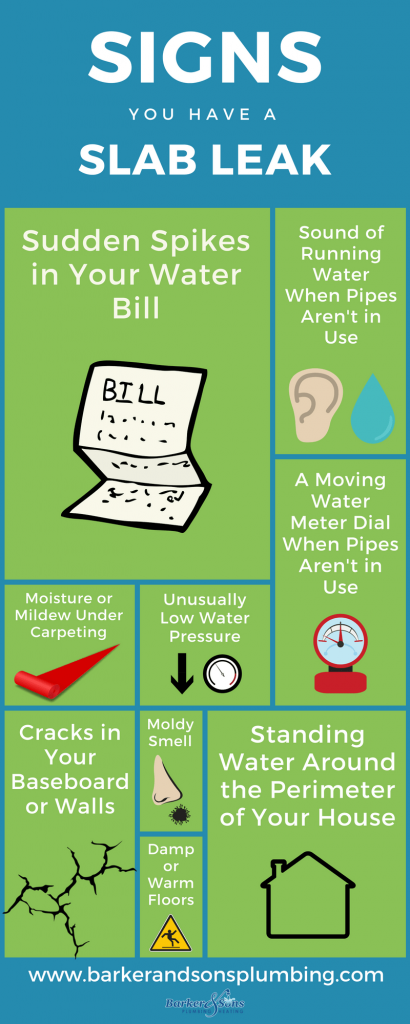 Signs You Have a Slab Leak
Sudden spikes in your water bill
The sound of running water when pipes aren't in use
Moisture or mildew under carpeting
A moving water meter dial when pipes aren't in use
Standing water around the perimeter of your house
Unusually low water pressure
Cracks in your baseboard or walls
Damp or warm floors
Mold problems / Moldy smell
If you notice any of these red flags, give Barker & Sons Plumbing & Rooter a call for an expert diagnosis and professional slab leak repair.
Slab leaks can be detrimental to the structural integrity of your home. If neglected, water damage from these leaks can eventually lead to the formation of mold and provide a nesting ground for termites.
We know you work hard for your money and want to take care of your investments, especially your home. That's why we make it our business to ensure you are provided with the best and most economical solutions for all of your plumbing needs.
Why Choose Our Slab Leak Repair/Detection Service?
Save time & money
100% Satisfaction Guarantee on all Barker & Sons Services
Pinpoint the exact location of the leak
Fix your leak the first time!
When leaks pop up where they're least expected, call the expert leak detection team at Barker & Sons Plumbing & Rooter. Slab leaks have nothing on us! For fast, professional plumbing service and repair in Orange County, call (714) 970-4556 today!
For more information on slab leaks, view our additional resource: Slab Leak FAQs – What is a Slab Leak? Common Causes & Signs