Emergency Drain Cleaning in Laguna Niguel
Our state-of-the-art services, including hydro jet drain cleaning, help prevent clogs and backups.
Why You May Need Drain Cleaning
Take a minute to imagine all the food, debris, and more that goes down your home's drains. Now, think about when you did anything to maintain or clean those drains. Drain cleaning helps improve the lifespan of your drains, gets rid of lingering odors in hard-to-reach places, reduces clogs, and provides more efficient draining. By maintaining your drains, you're saving yourself from costly repairs down the line. Have an emergency you need handled immediately? Contact us now for emergency drain cleaning services!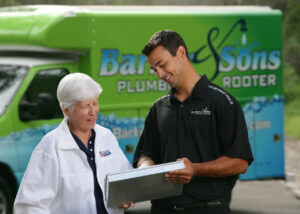 Causes of Drain Line Clogging
Just because you think something can go down the drain doesn't mean it can. Here are some of the main causes of drain line clogging (and what you should avoid putting down the drain):
Animal waste
Bandages and dressings
Disposal wipes
Food, oil, and grease
Hair and beauty products
Mineral hard water deposits
Paint
Sanitary products
Soap scum
Tree and shrub roots
Drains, and the sewer lines connected to them, should only see water and wastewater flowing through the pipes. However, we're all guilty of putting things we're not supposed to do down our drains. By calling in Barker and Sons Plumbing & Rooter, we can get your drains cleaned, clear of obstacles, and help improve how water flows through your Laguna Niguel home's pipes.
Symptoms of Drain Line Clogging
Not sure if your drain line is clogged? Here is what to keep an eye out for:
Foul odors coming from your drains that linger
Drains back up or don't drain at all
Drain keeps backing up in the same rooms
Drains only drain when running the garbage disposal in the kitchen
Low water pressure
Standing water from slow draining, especially in the shower or tub
Many homeowners attempt to fix drain clogs by flushing them with dish detergent and hot water or using an over-the-counter product like Draino. Unfortunately, fixing a slow draining drain causes more harm than good.
Scheduling a service call with Barker and Sons Plumbing & Rooter to diagnose the issue and fix it is the best way to ensure the job gets done right and doesn't damage your home's pipes.
How Hydro Jetting Works
Barker and Sons Plumbing & Rooter leverages hydro jetting for drain cleaning, ensuring we blast away any clogs in your drains. Hydro jetting uses a high-pressure water stream to help break up even the most stubborn clogs. It's much more effective and efficient than other drain cleaning methods, such as using a drain snake. Barker and Sons prides itself in getting the job done right 100% of the time – hydro jetting is one tool we use to ensure drain cleaning in Laguna Niguel is tackled for our customers.
Sewer Cleaning and Sewer Repair in Laguna Niguel
Drain cleaning problems don't end just because your drains are unclogged. Buildup and blockages in your home's sewer lines can lead to your whole home experiencing slow draining, standing water, and eventually, burst pipes. You do not want to deal with the damage needed if your sewer lines need replacing. Barker and Sons Plumbing & Rooter provides sewer cleaning and sewer repair to avoid full replacement of sewer lines to and from your home.
Call Barker and Sons Today for Laguna Niguel Drain Cleaning
Tackling drain cleaning issues as they happen is a great way to avoid sewer line replacement in the future. We're here to help you with exceptional customer service backed by over 35 years of experience in plumbing, drain cleaning, sewer repair, and more. Call Barker and Sons Plumbing & Rooter today to schedule drain cleaning services for your Laguna Niguel home.