Drain Cleaning in Costa Mesa
Our state-of-the-art services, including hydro jet drain cleaning, help prevent clogs and backups.
See Specials
Backed-up drains are a major source of frustration for any homeowner. That's why Barker and Sons can get you scheduled with one of our highly trained plumbers to inspect and clean your drains. Have an emergency? We can tackle that, too! Read on to find out how Barker and Sons will help get your drains cleared in no time.
Importance of Timely Drain Cleaning in Costa Mesa, California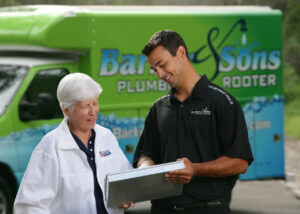 Sewer lines easily become clogged without proper maintenance, which is why it's critical to get them cleaned on a regular basis. Slow-draining water comes with the possibility of irreparable damage to your home's pipes, leading to issues throughout your home.
If your drains are clogged, it means that the water is not flowing properly and that can bring serious health issues to your family. Stagnant water has the ideal conditions for bacteria to develop, and the presence of bacteria can lead to disease. Mosquitoes are also attracted to stagnant water.
Mold develops quickly when your drains aren't flowing, which can lead to allergies, asthma, and other health issues. If there are cracks on your floors, the water can also start infiltrating and cause damage to carpets, furniture, or even to the house structure.
Barker and Sons can help you prevent mold growth and germs with our drain cleaning services.
Common Items That Clog Costa Mesa Drains
Every home faces clogged drains at one point or another. The source often isn't what we expect either – soap scum, disposal wipes, and even tree and shrub roots can make their way into pipes and block the flow of water down the drain.
Knowing what should and should not go down your drain will save you a lot of money in future repairs. Be extra careful with the following items:
Soap scum
Tree and shrub roots
Bandages and dressings
Deposits from mineral hard water
Disposal wipes
Food, oil, and grease
Sanitary products
Paint
Hair and beauty products
Animal waste
Routine drain cleaning by an Orange County plumber is always a smart idea. It's an important preventative upkeep measure that will preserve your Costa Mesa home's plumbing fixtures and allow you to avoid costly repairs in the future. Contact Barker and Sons Plumbing if an emergency sewer cleaning is required.
Hydro Jet Drain Cleaning in Costa Mesa, Orange County, CA
Hydro jet cleaning involves using a high-pressure waterjet to break up the clogs and clean the drain. Cleaning with hydro jet technology is more efficient than traditional drain snake cleaning, which is precisely why it is our primary method for unclogging any Costa Mesa drain.
If your drain has accumulated heavy-duty buildup like soap, oil, or sand over time, hydro jet cleaning is extremely effective. Over time, these materials can accumulate in your drain and create a clog. This isn't usually something that can be solved using a traditional drain snake, which is why it is crucial to use hydro jets in these instances.
The Hydro Jetting Process in Costa Mesa
Hydro jetting uses water to blast the inside of your drain, whereas a rooter drain cleaning creates a hole in the debris to allow the water to go through. This means that using rooters may allow debris to stay in your drain while hydro jetting technology will completely remove even the toughest grease, sand and sediment build up in your drains. Hydro jetting helps avoid expensive repairs in the future by restoring flow and removing any grease that has accumulated in your drain.
The industry-standard method for cleaning drain pipes is hydro jetting. Call the expert plumbers at Barker and Sons Plumbing to discuss hydro jet drain cleaning in Costa Mesa.
Contact Barker and Sons Plumbing for Drain Cleaning in Costa Mesa, Orange County, CA
A clogged drain can be catastrophic for your home. That's why Barker and Sons strives to make the unclogging process easy, simple, and fast when emergencies like this arise. Regardless of your plumbing situation, we are here to help!
Since 1983, Barker and Sons Plumbing, has provided plumbing services to the Costa Mesa community. Our qualified plumbers are knowledgeable on hydro jet drain cleaning technology, and our prices are always transparent. For drain cleaning services, contact us today.