Drain Cleaning in Newport Beach
Our state-of-the-art services, including hydro jet drain cleaning, help prevent clogs and backups.
See Specials
Most people do not think about drain cleaning until they need it. After all, your home's drains are largely unseen. So that means they are working properly, right? Not always. Clogged drains are one of the most common plumbing problems we see in Newport Beach. The professional plumbers at Barker and Sons Plumbing, can offer experience that most homeowners will never have. After all, drain clearing is what we do everyday!
We're the Experts in Drain Cleaning Newport Beach Trusts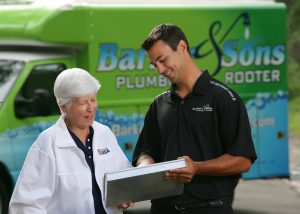 Our skilled technicians can help you identify the cause of the issue, so you can rest assured it'll be completely taken care of. In addition to experience, our team has access to equipment that many homeowners do not.This includes equipment for removing clogs and identifying them too. We have video equipment to do camera inspections to find clogs. At Barker and Sons Plumbing & Rooter we unclog pipes with both snaking and advanced techniques, such as hydro jetting. 
We can provide the guidance you need to determine if the source of your clogged drain is an easy fix, routine repair, or a new drain installation. There are times the drain with the backup isn't even the drain that is obstructed. The pipes in your house are connected and a clog in one location will cause water and sewage to back up in another area of your house. Most people are unaware that the kitchen plumbing, bathroom plumbing and laundry drains are connected in multiple places.
Finding a Drain Blockage
Drain and sewer video inspections can identify root intrusion, deterioration or other damage without digging, which saves a tremendous amount of time and money. By having a plumbing video inspection we can quickly identify what is causing the problem and determine if this is a one time problem or a recurring issue.
We provide drain cleaning, emergency plumbing services, sewer line repairs, and more. If you are experiencing an emergency or need any other services, call us today at 714-630-8766.
Importance of Timely Drain Cleaning in Newport Beach, CA
Drain cleaning is one of the most important services we offer at Barker and Sons Plumbing. You may be thinking, why do I need my drains cleaned regularly if I don't let food or other debris go down them?
Scheduling drain cleaning is important to maintaining your Newport Beach home. Stuff is bound to go down your drains no matter how hard you try to avoid it. If you never get them cleaned, the debris will build up, your drains will end up clogged, and it will be harder to clear them.
Regular drain cleaning also keeps your water draining quickly. Slow draining water can cause permanent damage to your pipes and lower the value of your home unless you get them replaced.
The slow draining water is a hotspot for mold, leading to serious health problems for you and your family. Any mold buildup can lead to mild symptoms like sneezing and coughing to more serious ones like allergic reactions, lung damage, and asthma.
Drain cleaning prevents this, helps keep your drains running properly, and avoids a massive clog.
Items That Commonly Clog Newport Beach Drains
There are a lot of items that can clog your drains. Some are easier to avoid than others.
Some of the items that may clog sewer lines in Newport Beach include:
Sanitary products and wipes
Grease, oil, and food
Hard mineral water deposits
Shrub and tree roots
Bandages and dressings
Paint
Beauty and hair care products
Soap residue
Waste from animals
These are just the most common things; it's not an exhaustive list. You never know what might end up in your drains or when it could happen.
Consider scheduling regular drain cleanings to avoid common items from clogging up your drains and having an unexpected drain emergency. Our Newport Beach plumbers at Barker and Sons can perform regular cleanings and maintenance to help keep your home in good condition.
If a clogged drain emergency arises, you can contact us in between cleanings to help you solve the problem.
Hydro Jet Drain Cleaning in Newport Beach, CA
Another service that Barker and Sons Plumbing offers is hydro jet drain cleaning. To do this, we use a high-pressure stream of water and blast it down your drain to clear up any clogs. Hydro jet drain cleaning is a safe and effective way to clean drains in Newport Beach homes, and it is significantly faster since just a few blasts will open your drains.
If you think you have a big clog in your drains, call us to see if hydro jet drain cleaning might be right for your drains. If you have heavy or thick things clogging your drains like grease, sand, and soap, this cleaning method is best.
Drain snakes will not help with this buildup, especially over months or years, if you do not have regular drain cleanings. You will not be able to unclog these thick clogs without a professional.
The Hydro Jetting Process in Newport Beach
Hydro jetting is an easy way to clean and maintain your drains in Newport Beach. The pressurized cleaning forces water into your drain and scours the inside. This method removes any buildup and keeps the water flowing. Keeping a good water flow keeps your home in good condition and helps you avoid major issues with your drains in the future.
Hydro jet unclogging is a great drain pipe cleaning method. Call Barker & Sons Plumbing at 714-630-8766 to schedule hydro jet drain cleaning in Newport Beach.
Contact Barker and Sons Plumbing for Fast, Effective Drain Cleaning in Newport Beach
Barker and Sons Plumbing is a family-owned and operated plumbing business that has been solving clogged drains and using hydro jet drain cleaning technology for over 35 years. Our Drain Technicians are the Experts Newport Beach trusts, so you can rest assured that we'll leave your home even better than we found it. Contact us today for more information on how our experienced plumbers can help you and your Newport Beach home.