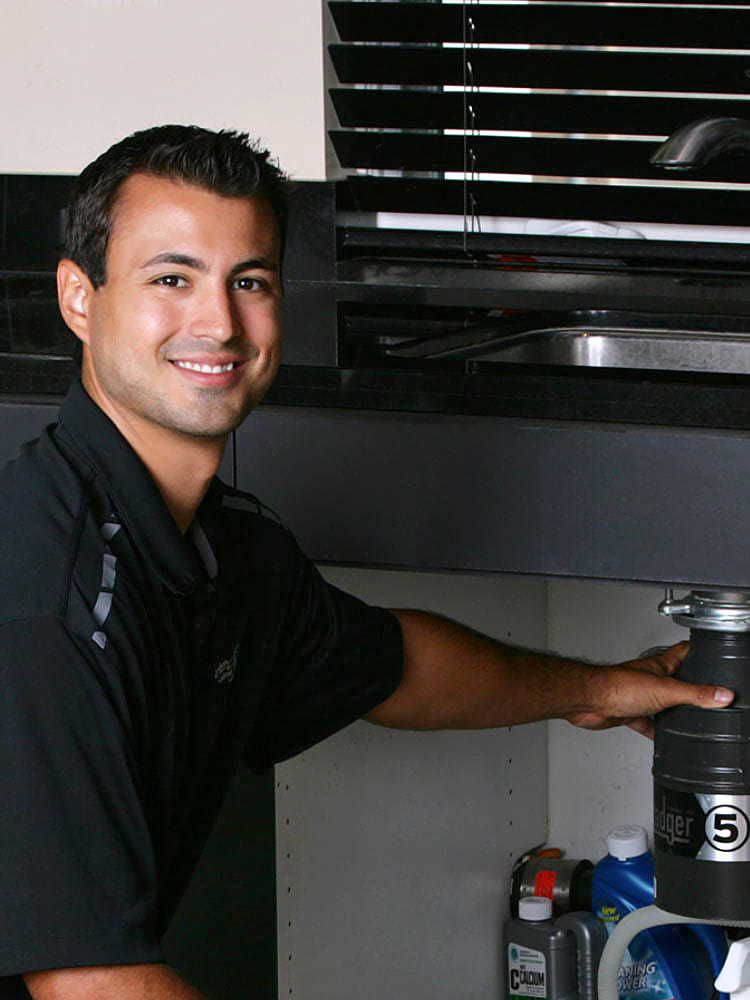 Kitchen Drain Cleaning in Orange County, CA
Our state-of-the-art services remedy the problem quickly for you.
Some of the most common – and most frustrating – drain clogs often occur in the kitchen sink. Even if you're careful, it's easy for extra large food particles, grease, fats, soap and other things to accidentally fall into your drain and slow it down or totally stop it up. For minor clogs, you can use an enzyme-based cleaner to eat away at the main bulk of the blockage to help push it down the pipes and out of the house. But if you have an extra tough clog in your sink in Anaheim, Fullerton, Yorba Linda or anywhere else in the Orange County area, call Barker & Sons for kitchen drain clog removal!
The Orange County Kitchen Drain Experts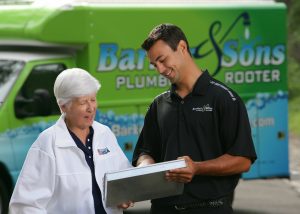 We've been serving Orange County for over 35 years, and in that time we've seen (and fixed) more kitchen drain clogs than we can count. No matter how severe your clog, we have the tools to knock it out quickly, from plungers to pluming snakes!
If you have a drain clog in your Orange County, CA kitchen, call Barker & Sons! You'll see why we've been called "the plumber's plumber"!
Preventing Kitchen Drain Clogs
The easiest way to take care of kitchen drain clogs is to prevent them from happening in the first place. And fortunately, this is easier than it sounds! It all comes down to what you put in your drains. To prevent kitchen drain clogs:
Don't pour grease, fats or oils down the drain. Grease will stick to the sides of the pipes and build up into a blockage. Worse, water will slide right off the grease without clearing it out, leaving you with a big mess!
Don't wash coffee grounds down the sink. Throw them away in the trash.
Use chemical drain cleaners sparingly, if at all – especially if you have metal pipes. The caustic chemicals can eat away at the pipes, are toxic to fish and could be harmful to your health. If you want to try to knock out the clogs on your own, choose an enzyme-based drain cleaner. They work more slowly but they're much safer.
Scrape your plates into the trash rather than relying on the garbage disposal. While your garbage disposal is good about grinding up large bits of food, it can always miss things and send them whole (or mostly whole) down the drain.
Always run the water while you run the garbage disposal to flush food particles down and prevent odors from rising up.
What to Expect from Barker & Sons Kitchen Drain Service
On-time fast and friendly service
We value your time and know you're busy. We will schedule an exact appointment time to meet you and complete your kitchen drain cleaning service – and we'll show up on time!
The plumbers' plumber
We are the plumbers that other plumbers learn from, so you can count on the fact that we'll put our expert knowledge and experience to work for you. Your kitchen drain cleaning job will be done right the first time and have peace of mind you made the right decision. Licensed and insured, we offer a 100% satisfaction guarantee for your peace of mind.
Clean and green
Our safety-conscious workers wear sanitary booties and keep your family's house clean. And have we mentioned we're green? We not only aim to meet and exceed your needs, but we're also doing our part to meet the every-changing needs of our environment.
Experts you can trust
Barker & Sons are the trusted Orange County plumbing experts you've been searching for with the customer service you deserve!