Garbage disposals are one of those appliances that makes cleaning up easier – as long as you treat them with care. They're so easy to use, yet even more easy to abuse. While you don't always know what will cause a garbage disposal to break, there are a few things you should avoid disposing at all costs: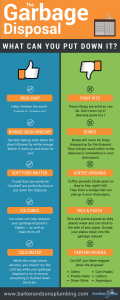 Potato skins
BonesEggshells
Banana peels
Fats
Unpopped popcorn kernels
Onion skins
Fruit pits and seeds
Stringy vegetables

Though you don't have to be perfect about it, you want to avoid unnecessary repairs. Remember: don't use your garbage disposal as a substitute for your trash can! While some liquids like ice cubes and dish washing soap are easy to dissolve, there are other foods and substances that have a tough time breaking down, causing your drain to clog.
It's important to take steps to avoid a problem from occurring, but if you find that your garbage disposal is already blocked up, DON'T PANIC. We're here to help! The experts at Barker and Sons will schedule an exact appointment time to meet you and perform your garbage disposal repair job when you need us there.
Barker and Sons Plumbing & Rooting has been serving Orange County and the surrounding areas for over 30 years. Call us today at 714.630.8766 or visit our website for more information.